Spring has sprung and 'here's hoping' as my mother-in-law says that we're nearer to getting some freedoms back!
The album's being received well and I'm enjoying marvellous feed-back on all aspects of it, from the cover, the song choices, orchestrations, production..... well everything!!
The china mugs and vinyl-look coasters were a bit of fun but are being 'raved' about so we're producing more as enquiries for the coasters have led to them being bought as a gift-wrapped set of 4! - Ideal gifts for anyone who has the album & music lovers in general! (Being added to site asap or enquire to my social media sites).**
Reviews:- ELIO PACE - RADIO 2 / CO-CREATOR & STAR OF THE BILLY JOEL SONGBOOK 
"Your version of "Arthur's Theme"  is absolutely stunning"
                 MIKE KENNEDY-WELSH CONNECTIONS
"The best compilation of Burt Bacharach songs I've ever heard"
                 NICKY STEVENS - BROTHERHOOD OF MAN 
"One could almost say that Burt Bacharach wrote these songs with Elaine Gilmore in mind.  With a voice that is super smooth, with a great tone and so easy to listen to, her renditions of these timeless songs are most certainly well in her comfort zone as a vocalist and for me a great joy to listen to such a super talent.  I loved her choice of songs with my favourite being "Alfie".  I will most certainly play her CD at future dinner parties.
A mention must go to the talented musicians providing the backing and the great production team at the studios.  All in all, I would definitely recommend this CD for your collection.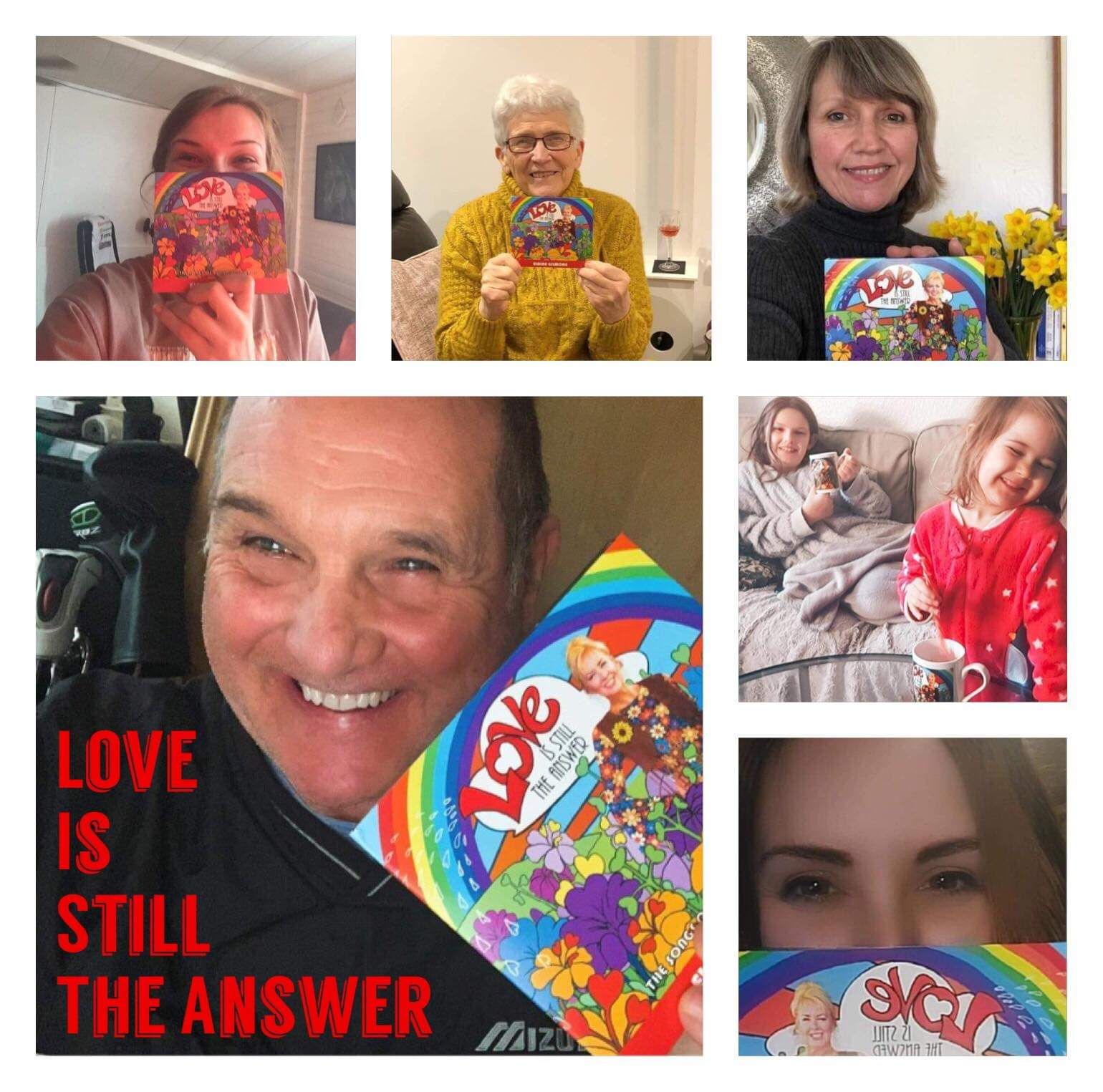 AND HERE MIKE DOYLE enjoyed the CD over dinner with his wife Marie and sent this photo.....along with Gemma, my daughter in Spain, Debbie's Mum (& the budgie!), Debbie, 2 precious girls with the china mugs early in the morning, and my eldest precious daughter-Claire!
More recording news to follow soon...but for now..keep spreading the word & keep your messages coming, it cheers us up & motivates us. THANK YOU for your support & remember LOVE IS STILL...THE ANSWER!!  Elaine xx